The All-New 2014 Porsche Cayman S – The Ultimate Driving Machine
October 11, 2022

Posted by

Paul Stone
Comments Off

on The All-New 2014 Porsche Cayman S – The Ultimate Driving Machine
The 2014 Porsche Cayman S 2 Doors is an excellent example of a mid-engine sports car. Its handling prowess, curb presence, and sensory fulfillment make it one of the best cars in its class. However, there are some drawbacks to owning one. Let's take a look at some of them.
Listed below are some of the features of the 2014 Porsche Cayman S for sale. The Coupe is available in Platinum Gray with Rhodium Silver Metallic Exterior. It has a smooth and sporty ride. The interior is available in Platinum Gray. It has a sporty feel and is great for daily driving.
Engine and Performance
A. Powertrain
The 2014 Cayman S is equipped with a mid-mounted 3.4-liter flat-six engine.
The engine delivers a power output of 325 horsepower, providing impressive performance capabilities.
With a torque rating of 273 lb-ft, the Cayman S offers strong acceleration and responsiveness.
B. Transmission Options
The standard transmission is a six-speed manual, which allows for a direct and engaging driving experience.
An optional seven-speed dual-clutch PDK (Porsche Doppelkupplung) transmission is available for those who prefer automatic shifting.
The PDK transmission offers fast and seamless gear changes, contributing to improved performance and efficiency.
C. Performance Capabilities
The 2014 Cayman S boasts impressive acceleration, capable of achieving a 0-60 mph time of approximately 4.4 seconds.
The vehicle's top speed reaches around 175 mph, showcasing its high-performance nature.
The combination of the powerful engine, well-tuned suspension, and precise steering allows for thrilling and agile driving dynamics.
D. Fuel Efficiency
Despite its performance-oriented nature, the Cayman S maintains respectable fuel efficiency.
The exact fuel economy may vary depending on driving conditions, but it typically achieves around 20 mpg in city driving and 28 mpg on the highway.
The efficient engine design and advanced transmission options contribute to a balance between power and fuel efficiency.
E. Sound and Exhaust
The Cayman S delivers an exhilarating engine sound that is both sporty and refined.
The vehicle may come equipped with an optional sport exhaust system, which enhances the engine note and adds an extra touch of excitement to the driving experience.
The sport exhaust system may offer switchable modes, allowing the driver to adjust the sound level to their preference.
F. Track Capabilities
The Cayman S is well-suited for track use, thanks to its potent engine and excellent handling characteristics.
The vehicle's balanced weight distribution, low center of gravity, and precise steering contribute to its agility and responsiveness on the track.
With its powerful brakes and stability control systems, the Porsche Cayman gt4 inspires confidence and provides the driver with a thrilling and rewarding track experience.
Overall, the 2014 Cayman S delivers impressive engine performance, offering a balance of power, responsiveness, and efficiency. Its transmission options, acceleration capabilities, and track-ready nature make it a highly desirable sports car for driving enthusiasts.
Handling and Suspension
A. Chassis and Construction
The 2014 Cayman S features a lightweight and rigid chassis construction, utilizing a combination of high-strength steel and aluminum components.
The chassis design contributes to the vehicle's overall balance, stability, and precise handling characteristics.
The low center of gravity enhances the Porsche Cayman S agility and responsiveness.
B. Suspension System
The front suspension consists of MacPherson struts, which provide excellent control and stability during cornering.
In the rear, the Cayman S is equipped with a multi-link suspension setup, offering improved traction and handling performance.
The suspension is tuned to provide a balance between sportiness and comfort, allowing for a controlled and compliant ride.
C. Porsche Active Suspension Management (PASM)
The Cayman S offers an optional Porsche Active Suspension Management system.
PASM allows the driver to electronically adjust the suspension settings according to their preference and driving conditions.
The system provides two modes: Normal and Sport. a. Normal mode optimizes the suspension for everyday driving comfort, maintaining a balanced ride quality. b. Sport mode stiffens the suspension, enhancing the vehicle's performance during spirited driving and on the track.
D. Steering
The Cayman S features precise and responsive electric power steering (EPS).
The EPS system provides excellent feedback and control, allowing for confident and precise maneuvering.
The steering is weighted appropriately, providing a direct connection between the driver and the road.
E. Braking System
The Cayman S is equipped with high-performance braking components to ensure effective stopping power.
The front brakes feature four-piston aluminum monobloc calipers, while the rear brakes have two-piston calipers.
The braking system is complemented by features such as ABS (Anti-lock Braking System), Brake Assist, and Porsche Stability Management (PSM) for enhanced safety and stability.
F. Wheels and Tires
The Cayman S comes with a set of performance-oriented wheels and tires.
The wheels are designed to provide optimal grip and enhance the vehicle's handling characteristics.
Tire options may vary, offering a balance between sporty performance and everyday comfort.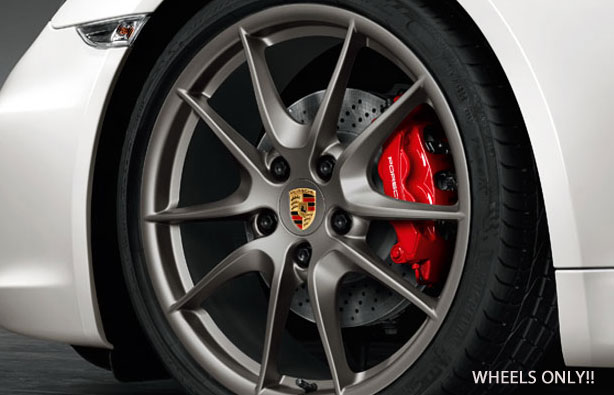 The combination of a lightweight and rigid chassis, advanced suspension system, precise steering, and high-performance brakes makes the 2014 Cayman S for sale  a true driver's car. Its exceptional handling capabilities, whether on the road or the track, ensure an exhilarating and engaging driving experience.
Aerodynamics and Design
A. Exterior Design
The 2014 Cayman S exhibits a sleek and aerodynamic exterior design that reflects its sporty nature.
The vehicle features a distinctive silhouette with a low roofline, sculpted bodywork, and flowing lines, contributing to its dynamic appearance.
The design elements, such as the pronounced wheel arches and muscular rear haunches, convey a sense of power and performance.
B. Aerodynamic Features
Porsche engineers have paid meticulous attention to aerodynamics to enhance the Cayman S performance and stability.
The front bumper incorporates air intakes and vents to optimize airflow and cool the brakes and engine.
The rear diffuser and spoiler are designed to reduce lift and generate downforce, improving traction and stability at high speeds.
Carefully positioned air curtains and aerodynamic side mirrors further enhance the vehicle's aerodynamic efficiency.
C. Active Aerodynamics
The Cayman S may be equipped with active aerodynamic features that further optimize airflow and stability.
These features can include an adjustable rear spoiler, which automatically adjusts its position based on vehicle speed and driving conditions.
The active spoiler helps maintain the ideal balance between aerodynamic performance and drag reduction.
D. Lighting
The Cayman S is equipped with high-quality lighting elements that enhance visibility and aesthetics.
Bi-xenon headlights come as standard, providing bright and focused illumination for improved nighttime visibility.
LED daytime running lights (DRLs) add a distinctive look to the front end and improve visibility during daylight hours.
LED taillights not only enhance visibility but also contribute to the Porsche Cayman S modern and sporty appearance.
Interior Comfort and Technology
A. Cabin Design and Layout
The interior of the 2014 Cayman S is designed to provide a driver-focused environment with a blend of luxury and sportiness.
The cockpit features a clean and ergonomic layout, with controls intuitively placed for easy reach and operation.
The seating position and ergonomics are optimized to provide excellent visibility and a comfortable driving experience.
B. Seats and Upholstery
The Cayman S comes with well-contoured and supportive seats as standard, ensuring comfort during spirited driving.
Optional upgrades may include adaptive sport seats or full bucket seats, offering even greater support and adjustability.
Upholstery options typically include premium leather, with a variety of color choices available for customization.
C. Infotainment System
The Cayman S is equipped with a touchscreen infotainment system for convenience and entertainment.
The system provides access to various features, including navigation, audio controls, and vehicle settings.
Bluetooth connectivity allows for hands-free calling and audio streaming from compatible devices.
The system may also support smartphone integration, such as Apple CarPlay or Android Auto, for seamless integration of smartphone functions.
D. Audio System
The standard audio system in the Cayman S delivers high-quality sound reproduction.
Optional upgrades may include a premium sound system from renowned audio manufacturers, providing enhanced audio clarity and a more immersive listening experience.
The audio system may feature multiple speakers, amplifiers, and equalization settings to customize the sound to individual preferences.
E. Climate Control
The Cayman S typically comes equipped with dual-zone automatic climate control.
This allows the driver and passenger to set and maintain their desired temperature independently.
The system may feature additional air vents and controls in the rear cabin for the comfort of rear passengers.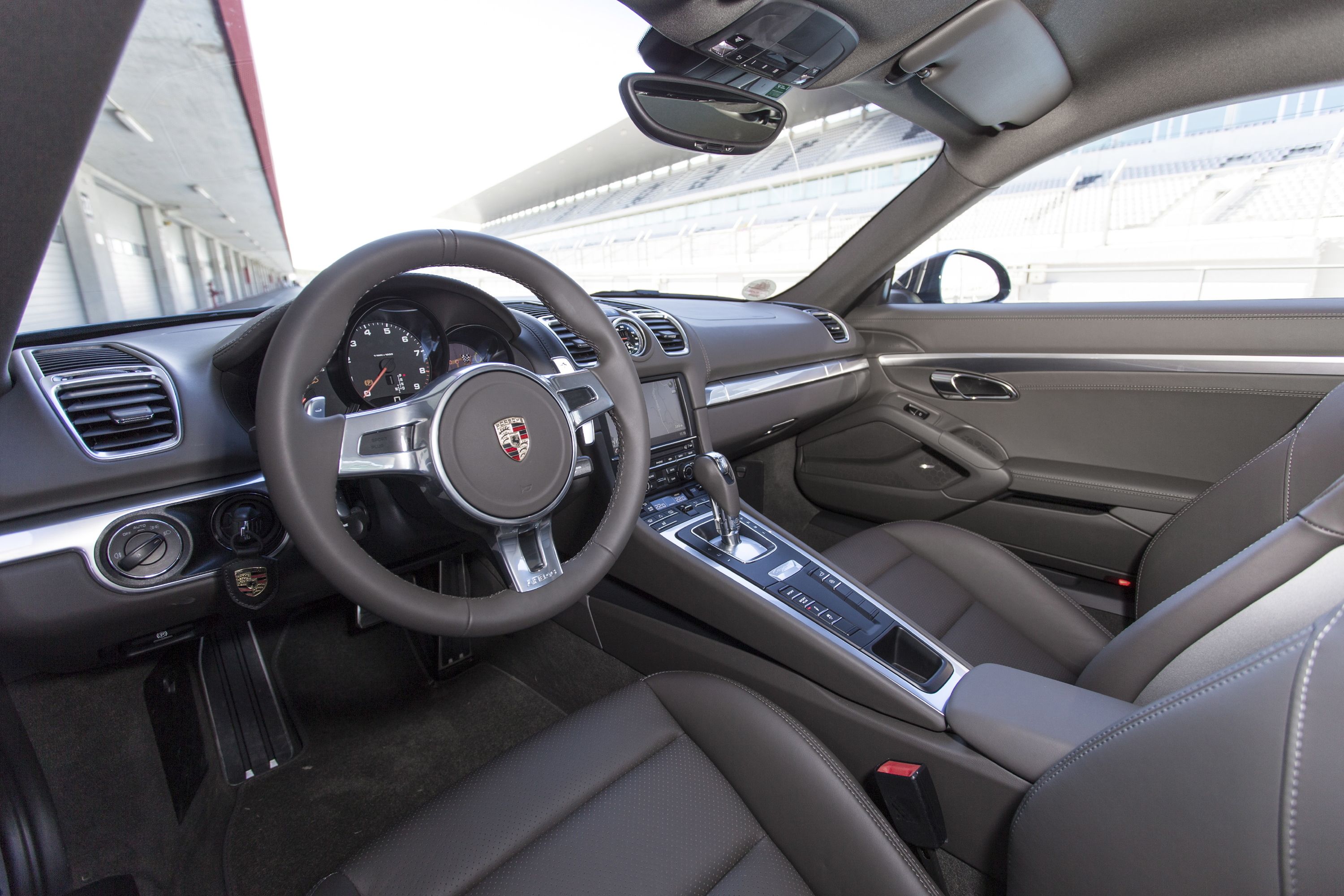 The interior of the Porsche Cayman offers a balance of comfort, technology, and customization options. From the well-designed cabin layout and supportive seats to the advanced infotainment and audio systems, the Cayman S provides a luxurious and connected driving experience. Additionally, optional extras and personalization options allow owners to tailor the vehicle to their preferences and create a truly bespoke interior.
Safety Features
A. Structural Safety
The 2014 Cayman S features a robust and rigid chassis construction, designed to withstand and absorb impact forces in the event of a collision.
High-strength steel and aluminum components are strategically placed to provide structural integrity and passenger protection.
B. Airbag System
The Cayman S is equipped with a comprehensive airbag system to protect occupants in the event of a collision.
The system typically includes front airbags for the driver and passenger, side-impact airbags mounted in the seats, and side curtain airbags that deploy from the roofline.
The airbags are designed to deploy in a controlled manner, providing additional protection to the head, chest, and pelvis areas.
C. Porsche Side Impact Protection System (POSIP)
The 781 Cayman T & S incorporates the Porsche Side Impact Protection System (POSIP) to enhance occupant safety in side-impact collisions.
POSIP includes a combination of reinforced side-impact protection elements, such as door panels and side impact beams, to help minimize intrusion into the cabin and protect occupants.
D. Stability Control and Traction Control
The Cayman S is equipped with stability control and traction control systems to enhance vehicle stability and control.
These systems continuously monitor various parameters, such as wheel slip and vehicle dynamics, and intervene when necessary to help maintain stability during challenging driving conditions.
E. Anti-lock Braking System (ABS)
The Cayman S features an Anti-lock Braking System (ABS) that prevents the wheels from locking up during emergency braking.
ABS helps the driver maintain steering control while braking, reducing the risk of skidding or loss of control.
F. Brake Assist (BA)
Brake Assist is a safety feature that detects emergency braking situations and automatically applies maximum braking force to help reduce stopping distances.
By assisting the driver during panic braking, Brake Assist enhances overall braking performance and safety.
G. Tire Pressure Monitoring System (TPMS)
The Cayman S typically includes a Tire Pressure Monitoring System (TPMS) to monitor the air pressure in each tire.
TPMS alerts the driver if there is a significant drop in tire pressure, helping to prevent potential tire failure and improve safety.
H. Advanced Driver-Assistance Systems (Optional)
Depending on the specific options and packages chosen, the Cayman S may offer additional advanced driver-assistance systems.
These systems may include features such as adaptive cruise control, lane departure warning, blind-spot monitoring, and forward collision warning.
These systems provide an extra layer of safety by alerting the driver to potential hazards and assisting in mitigating collisions.
It's important to note that safety features can vary based on the specific configuration and optional extras chosen for the 2014 Cayman S. Therefore, it is advisable to consult the vehicle's specifications or the manufacturer for the precise safety features available on a particular model. Elevate Your Drive with the Porsche Cayman S's Excellence
Optional Extras
The 2014 Cayman S offers a range of optional extras that allow owners to further customize and enhance their driving experience. These optional extras can include:
Premium Sound System: Upgrading the audio system to a premium sound package from renowned audio manufacturers can provide an immersive listening experience with enhanced audio clarity and high-quality sound reproduction.
Adaptive Sport Seats: Optional adaptive sport seats offer increased comfort and support, especially during spirited driving. These seats can feature adjustable side bolsters and additional power adjustments to provide a personalized seating position.
Full Bucket Seats: Full bucket seats are an option for those seeking a more track-oriented driving experience. These seats offer even greater lateral support and stability during high-performance driving maneuvers.
Sport Chrono Package: The Sport Chrono Package adds performance-oriented features to the Cayman S. It typically includes a stopwatch mounted on the dashboard, a Sport Plus driving mode for enhanced throttle response and suspension stiffness, and launch control for optimized acceleration from a standstill.
Porsche Active Suspension Management (PASM): PASM is an optional electronic suspension system that allows drivers to adjust the suspension settings according to their preferences and driving conditions. It offers two modes: Normal for everyday driving comfort and Sport for a stiffer suspension setup for more dynamic driving.
Carbon Ceramic Brakes: For those seeking ultimate stopping power and improved brake performance, carbon ceramic brakes are available as an option. These brakes offer reduced weight, increased fade resistance, and enhanced braking performance under high-temperature conditions.
Porsche Torque Vectoring (PTV): PTV is a system that enhances the vehicle's agility and cornering capabilities. It applies targeted braking interventions to the rear wheels during cornering, allowing for improved traction, stability, and sharper turn-in response.
Parking Assistance: Optional parking assistance features can include front and rear parking sensors or a backup camera. These systems provide audible and visual feedback to assist the driver during parking maneuvers and help avoid potential collisions.
Adaptive Cruise Control (ACC): ACC is an optional feature that automatically adjusts the vehicle's speed to maintain a set distance from the vehicle ahead. It can provide added convenience during long journeys and highway driving.
Panoramic Sunroof: An optional panoramic sunroof can enhance the cabin ambiance by bringing in natural light and providing a sense of openness. It typically features a power sunshade for controlling sunlight intensity.
Interior Trim Upgrades: Optional interior trim upgrades can include various materials, such as carbon fiber, brushed aluminum, or wood accents, allowing owners to customize the cabin to their personal taste and preference.
Extended Leather Package: The extended leather package offers an upgraded leather upholstery treatment, covering additional surfaces in the cabin for a more luxurious look and feel.
Conclusion 
In conclusion, the 2014 Cayman S is a high-performance sports car that offers thrilling driving dynamics, precise handling, and a luxurious interior. With its powerful engine, aerodynamic design, and optional extras, it provides an exhilarating and personalized driving experience. Safety features are also prioritized to ensure occupant protection. The Cayman S is a top choice for enthusiasts seeking a combination of performance, style, and comfort in a sports car.
Visit  Champion Porsche to Know more
Champion Porsche is proud to offer this 2014 Porsche Cayman S. Finished in Guards Red over a Rhodium Silver Metallic, the Cayman S has been driven just 31383 miles by one previous owner. It is in excellent condition from top to bottom, and it shows no signs of wear and tears inside or out. This Cayman S is powered by a naturally aspirated 3.4L flat-six engine mated to a 7-speed PDK automatic transmission. Factory options include the Sport Chrono Package, PASM Sport Suspension, Sound Package Plus, and much more.
You can Call at (800) 940-4020 to schedule a test drive. The team at  Champion Porsche is passionate about helping customers find the perfect car to match their driving needs. They will work tirelessly to make sure that you are completely satisfied with your purchase. Click this link to know more about this Used Porsche Cayman.