Discover the Unmatched Luxury and Performance of the 2021 Porsche Panamera
May 4, 2021

Posted by

Paul Stone
Comments Off

on Discover the Unmatched Luxury and Performance of the 2021 Porsche Panamera
The 2021 Porsche Panamera is the epitome of luxury and performance. With its captivating design, advanced technology, and exhilarating driving experience, this high-end sedan appeals to discerning car enthusiasts and those seeking the ultimate in automotive excellence.The Panamera's sleek and aerodynamic exterior exudes elegance and commands attention on the road. Inside, the luxurious interior boasts the finest materials and cutting-edge technology, providing a comfortable and connected driving environment.
Under the hood, the Panamera offers a range of powerful engine options, delivering breathtaking performance and precise handling. Advanced safety features ensure peace of mind on every journey.In a class of its own, the 2021 Porsche Panamera combines Porsche's heritage, superior driving dynamics, and exclusivity, making it a symbol of automotive prestige. Prepare to be captivated by its elegance and thrilled by its performance as you explore the world of the Panamera. Visit your local Porsche dealership and experience the masterpiece that is the 2021 Porsche Panamera.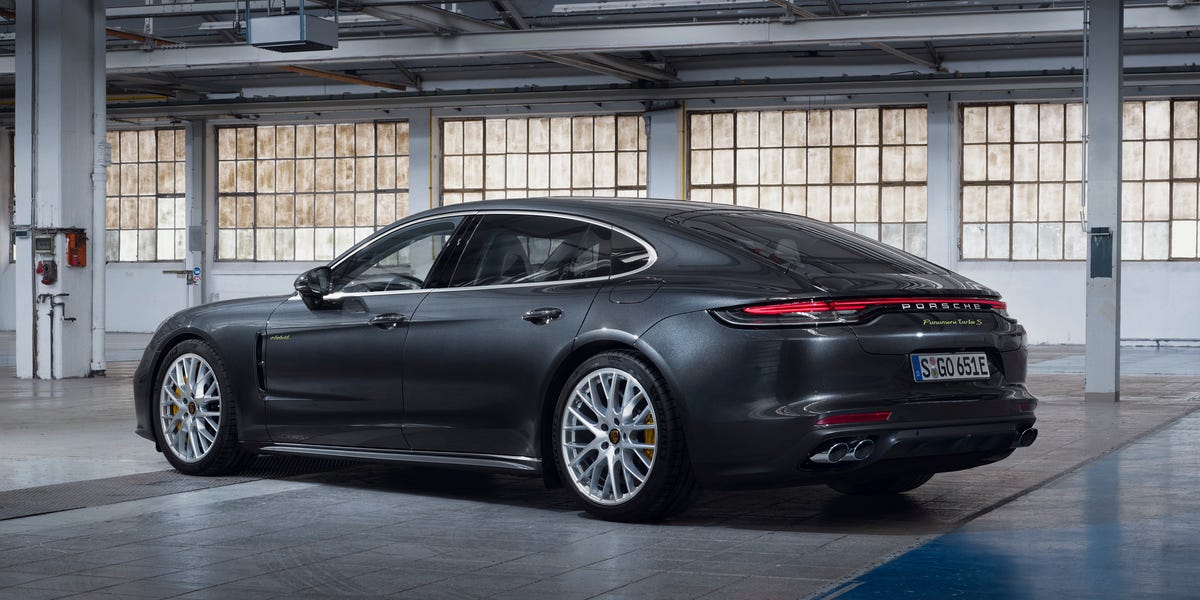 Exterior Design
The exterior design of the 2021 Porsche Panamera is a harmonious blend of sleekness, sophistication, and aerodynamic prowess. Every curve and line has been carefully sculpted to create a visually striking and commanding presence on the road.
At first glance, the Panamera captivates with its unmistakable Porsche styling cues. The iconic front fascia features bold, expressive headlights that exude a sense of purpose and intensity. The aerodynamic profile of the vehicle, with its sweeping roofline and sculpted body panels, not only enhances its visual appeal but also contributes to its overall performance and efficiency.
The attention to detail is evident in every aspect of the exterior design. The precise fit and finish of the body panels, along with the seamless integration of functional elements such as air intakes and vents, result in a visually cohesive and purposeful design. The use of high-quality materials further enhances the Panamera's premium look and feel.
LED lighting technology plays a prominent role in the Panamera's exterior design. From the striking LED headlights that illuminate the road with clarity and intensity to the sleek LED taillights that leave a lasting impression, the lighting elements add a touch of modernity and sophistication to the overall aesthetic.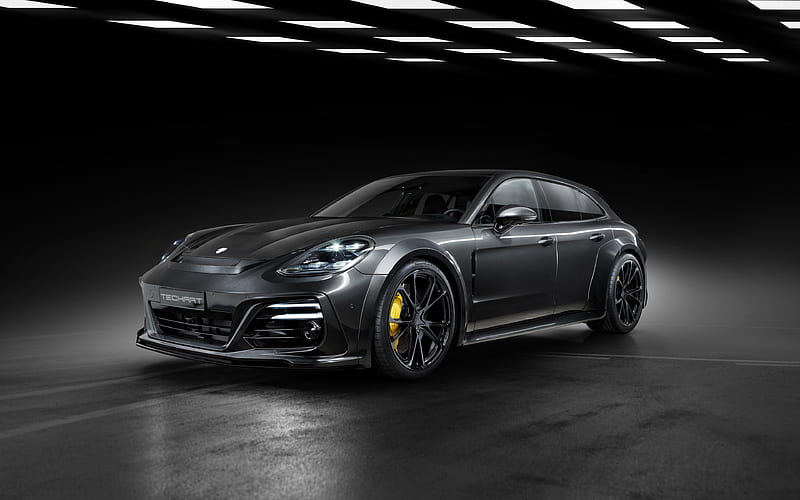 The 2021 Porsche Panamera offers a range of customization options, allowing owners to tailor the exterior to their personal preferences. This includes a variety of available exterior colors, wheel designs, and trim finishes, enabling drivers to create a Panamera that reflects their individual style and taste.
Interior Comfort and Technology
Step inside the 2021 Porsche Panamera, and you'll be greeted by a world of luxury, comfort, and cutting-edge technology. Meticulous attention to detail and the use of high-quality materials create an interior that is as inviting as it is visually stunning.The Panamera's interior is designed to provide a truly indulgent driving experience. From the supple leather upholstery to the precise stitching and craftsmanship, every element exudes elegance and sophistication. The seats offer exceptional comfort and support, ensuring that both driver and passengers can enjoy long journeys without fatigue.
Ample cabin space allows for a generous amount of legroom and headroom, making the Panamera suitable for both daily commutes and extended road trips. The rear seats provide comfort and convenience for passengers, while the driver benefits from an ergonomic layout that puts essential controls within easy reach.In terms of technology, the 2021 Porsche Panamera excels in providing a seamless and connected driving experience. At the heart of the interior is a sophisticated touchscreen infotainment system, offering intuitive controls and access to a wide array of features. From navigation and multimedia functions to smartphone integration and voice commands, the system ensures that you stay connected and entertained on the go.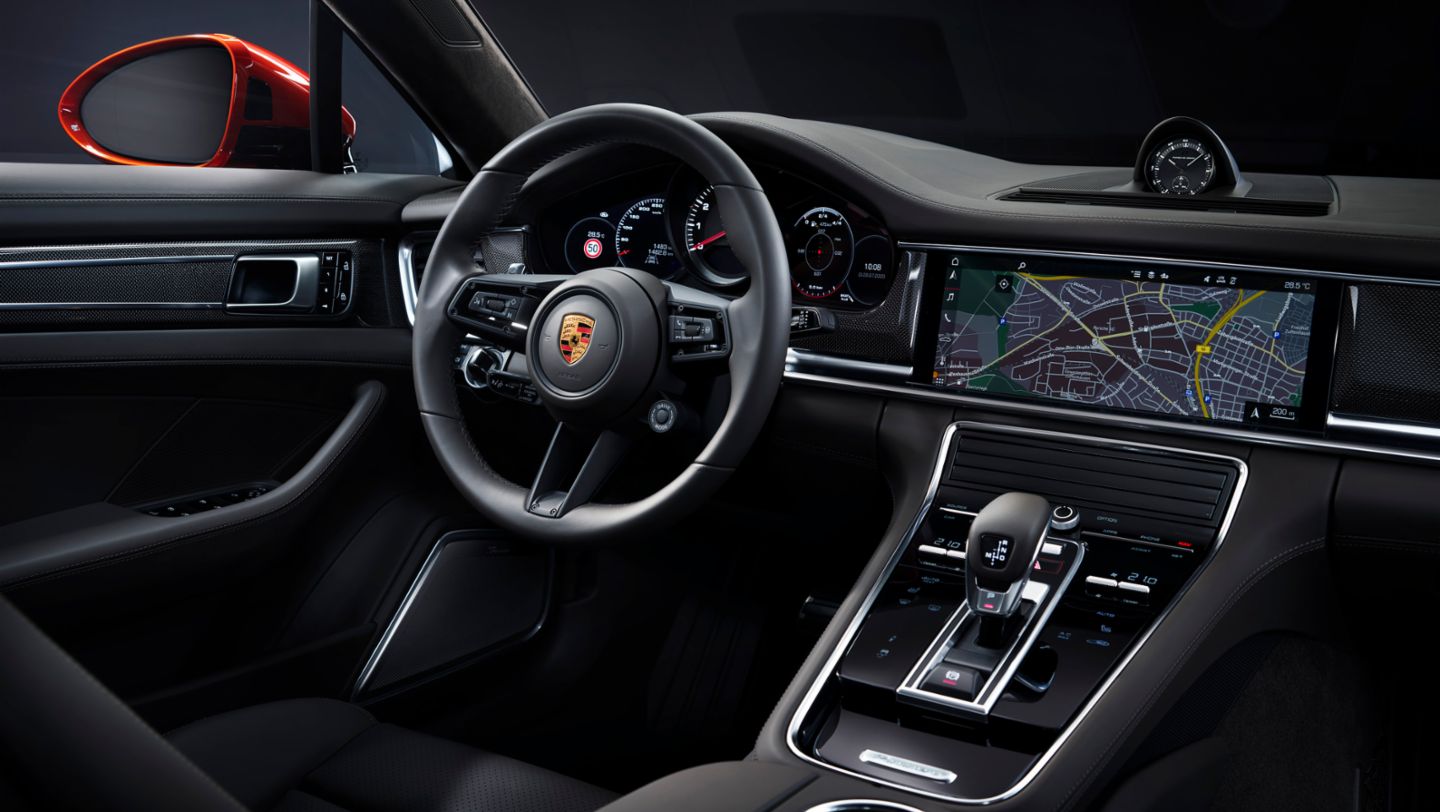 The Panamera also offers a premium audio system that delivers exceptional sound quality, allowing you to enjoy your favorite music with crystal-clear clarity. Additional technological features may include a digital instrument cluster that provides vital driving information, advanced driver-assistance systems to enhance safety, and customizable ambient lighting that creates a personalized and inviting atmosphere.
Furthermore, the Panamera incorporates advanced climate control systems that maintain the perfect temperature throughout the cabin, ensuring a comfortable environment for all occupants regardless of external conditions.
Performance and Engine Options
The 2021 Porsche Panamera is renowned for its exceptional performance and exhilarating driving dynamics. With a range of powerful engine options, advanced handling systems, and precise steering, the Panamera delivers an unforgettable driving experience.
The Panamera offers a selection of engine choices to suit different preferences and driving styles. At the heart of the lineup is the base model, equipped with a turbocharged V6 engine that delivers impressive power and responsiveness. With its smooth acceleration and ample torque, the base Panamera offers a thrilling driving experience.
For those seeking even more performance, Porsche offers higher-tier models with more potent engines. The Panamera GTS and Panamera Turbo variants feature V8 engines that produce exhilarating power, allowing for breathtaking acceleration and impressive top speeds. These engines deliver a thrilling rush and make every drive an adrenaline-pumping experience. The Panamera's performance is not just about raw power; it's also about precise handling and agility. Porsche's renowned engineering expertise is evident in the Panamera's suspension and chassis systems, which have been carefully tuned to provide exceptional stability and responsiveness. Whether navigating winding roads or taking on tight corners, the Panamera remains composed, allowing for confident and engaging driving.
The precise steering of the Panamera further enhances its performance capabilities. With its quick turn-in response and feedback, the Panamera provides an engaging and connected driving experience. Drivers can feel the road and have a sense of control, further heightening the enjoyment behind the wheel. Furthermore, the Panamera is equipped with advanced braking systems that provide excellent stopping power and ensure confident deceleration. These high-performance brakes deliver precise control and responsiveness, enhancing safety and providing peace of mind during spirited driving.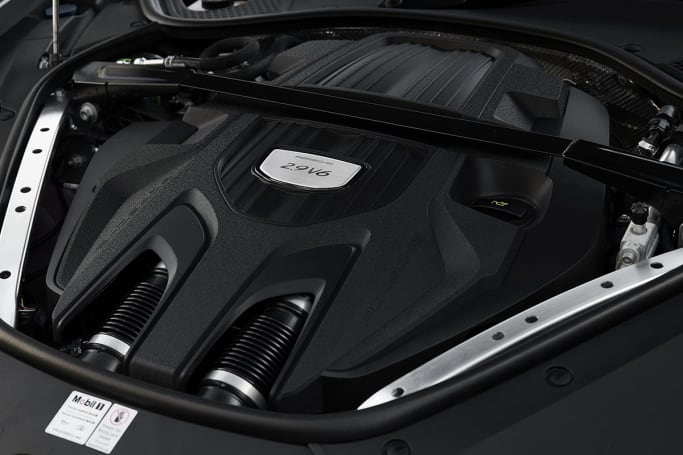 Safety and Driver-Assistance Features
The 2021 Porsche Panamera prioritizes safety and provides a comprehensive suite of advanced safety features and driver-assistance technologies to enhance occupant protection and peace of mind on the road.One of the key safety features in the Panamera is the inclusion of advanced driver-assistance systems. These systems utilize cutting-edge technologies to assist the driver in various aspects of their journey. For example, adaptive cruise control adjusts the vehicle's speed to maintain a safe distance from the vehicle ahead, providing convenience and reducing driver fatigue on long trips.
The Panamera also offers lane-keeping assist, which helps the driver stay within their designated lane by providing gentle steering inputs when necessary. This feature contributes to overall safety by minimizing the risk of unintended lane departures. Additionally, blind-spot monitoring alerts the driver to the presence of vehicles in their blind spots, enhancing awareness and reducing the likelihood of side collisions during lane changes.Furthermore, the Panamera is equipped with advanced braking systems that provide excellent stopping power and responsiveness. Anti-lock braking systems (ABS) and electronic stability control (ESC) work in conjunction to optimize braking performance and maintain vehicle stability during emergency maneuvers or challenging road conditions.
In terms of passive safety, the Panamera features a robust structure with strategically placed crumple zones designed to absorb and dissipate crash energy, protecting the vehicle occupants. Multiple airbags, including front, side, and curtain airbags, provide additional protection in the event of a collision.Porsche also incorporates advanced technology into its safety systems. For instance, the Panamera utilizes a comprehensive array of sensors and cameras to monitor the vehicle's surroundings, detect potential hazards, and provide visual and audible warnings to the driver.
Trim Levels and Customization Options
The 2021 Porsche Panamera offers a range of trim levels and customization options, allowing drivers to personalize their Panamera to their desired specifications and preferences. These options ensure that each Panamera reflects the unique style and taste of its owner.The Panamera lineup typically includes various trim levels, each offering distinct features and enhancements. These trim levels may vary based on the specific market and region, but they generally include options such as the base model, Panamera 4, Panamera GTS, Panamera Turbo, and Panamera Turbo S. Each trim level builds upon the previous one, adding more performance, luxury, and technology features.
For customization, 2021 Porsche Panamera provides a wide range of options to tailor the Panamera to individual preferences. This includes a selection of exterior colors, allowing owners to choose from a palette of sophisticated and eye-catching hues. From classic black or white to vibrant blues, reds, or metallic finishes, there are options to suit every taste.Interior customization options are equally extensive, with choices for upholstery materials, colors, and finishes. From luxurious leather to sporty Alcantara, the Panamera offers a range of high-quality materials that can be combined to create a personalized and inviting cabin space. Trim finishes, such as wood, aluminum, or carbon fiber accents, further enhance the interior's premium ambiance.
Additional customization options may include performance-oriented packages, such as a sport chrono package or adaptive air suspension, which further enhance the Panamera's dynamic capabilities. Furthermore, advanced technology features and convenience options, such as a premium sound system, panoramic sunroof, or rear-seat entertainment system, can be added to elevate the driving and passenger experience.2021 Porsche Panamera also provides a selection of optional wheels and tire combinations, allowing owners to further enhance the Panamera's aesthetics and performance. These choices encompass various designs, sizes, and finishes, enabling customization to suit individual preferences and driving requirements.
Final Thoughts 
In conclusion, the 2021 Porsche Panamera embodies the pinnacle of luxury, performance, and customization. With its captivating design, advanced technology, and exhilarating driving experience, the Panamera sets new standards in the world of luxury performance sedans. From its sleek exterior to its indulgent interior, every detail is meticulously crafted to provide comfort, sophistication, and a sense of individuality. With a range of engine options, precise handling, and advanced safety features, the Panamera delivers a thrilling yet safe driving experience. Whether cruising on the highway or carving through winding roads, the Panamera is a symbol of automotive prestige and a testament to Porsche's commitment to excellence.