Unleashing the Hidden Potential: Exploring the Versatile Porsche Macan Cargo Space
August 9, 2021

Posted by

Paul Stone
Comments Off

on Unleashing the Hidden Potential: Exploring the Versatile Porsche Macan Cargo Space
When it comes to a luxury SUV, practicality and versatility may not be the first things that come to mind. However, the Porsche Macan defies expectations by offering an impressive cargo space that caters to your every need. With its sleek and stylish design, the Macan seamlessly combines ample storage capacity with the sophistication of a high-end vehicle. Whether you're planning a road trip, hauling groceries, or embarking on an adventure, the Porsche Macan cargo space is ready to accommodate your lifestyle. Get ready to discover the perfect balance between luxury and functionality.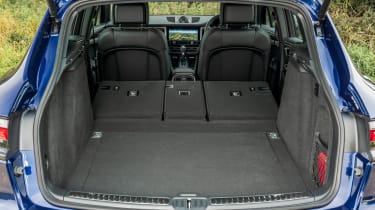 Now, let's delve into the remarkable details of the Porsche Macan's cargo space and uncover how this exceptional SUV redefines practicality with its seamless integration of style and substance.
Dimensions Of Porsche Macan Cargo Space
The impressive Porsche Macan cargo space combines generous capacity with exceptional flexibility. Here are the specific measurements and details about the Porsche Macan cargo space of the Porsche Macan:
With the second row in place, the 2023 Porsche Macan offers up to 17.6 cubic feet of cargo space, providing ample room for your belongings.
For those occasions when you require maximum cargo capacity, folding down the back seats unlocks a staggering 52.9 cubic feet of cargo room behind the first row, allowing you to transport large items with ease.
With the rear seats up, the Macan still offers a respectable 17.2 cubic feet of cargo space, providing enough room for everyday items or groceries.
The height under the luggage cover reaches approximately 19 inches, ensuring sufficient space for taller items. If you need to utilize the full height, you can enjoy around 21 inches of length.
At floor level, the Macan provides approximately 35 inches of length, allowing you to accommodate longer items comfortably.
The trunk dimensions measure approximately 41.3 inches in width, 18.9 inches in height, and 37.6 inches in depth, providing a well-proportioned space for your cargo needs.
With its impressive dimensions, the  versatile Porsche Macan cargo space combines practicality with the luxury expected from a premium SUV. Whether you're embarking on a weekend getaway or simply running errands, the Macan's flexible cargo area ensures you have all the room you need to transport your belongings with ease. Exploring the Porsche Macan's Performance and Handling
Porsche Macan Luxurious Interior  
Electrifuge seats for the driver and passenger are a standard internal feature that feels luxurious. We can put six carry-on luggage behind the bench and sixteen on the back. The compact cargo cabin and small cabin make the Macan one of the least practical units of its type. 
If you wish to get all the interior wrapped around leather this time around but you'd need 2023 additional for the dashboard and doors to be covered with cowhide. The Macan is expensive enough to buy one to suit this Porsche crest. 
Practical Design Features Of Porsche Macan
When it comes to maximizing cargo space and ensuring effortless loading and unloading, the Porsche Macan cargo space goes above and beyond. Its practical design features include:
Innovative Design Elements That Optimize Porsche Macan Cargo Space:
Foldable Seats: The Porsche Macan offers foldable rear seats, allowing you to customize the cargo area based on your needs. Fold them down completely for maximum cargo space or fold them partially to accommodate passengers and longer items simultaneously.
Adjustable Compartments: The Macan's cargo area features adjustable compartments and dividers, enabling you to organize and secure your belongings efficiently. This ensures that items stay in place during transit, preventing unnecessary shifting or damage.
Convenience Of Loading And Unloading:
Power Liftgate: The Porsche Macan comes equipped with a power liftgate, making it effortless to access the cargo area. With just a press of a button, the liftgate automatically opens or closes, allowing for convenient loading and unloading, even when your hands are full.
Hands-Free Access: Some models of the Macan offer a hands-free access feature. By simply waving your foot under the rear bumper, the liftgate opens automatically, providing seamless access to the cargo area, perfect for when your hands are occupied with bags or other items.
These practical design features in the Porsche Macan cargo space are well optimized, providing flexibility and convenience. Whether you need to transport large items, organize various belongings, or simply enjoy the ease of loading and unloading, the Macan's thoughtful design elements ensure a hassle-free experience.
Engine Transmission And Performance 
The GTS version took the 434 hp V-6 Macan Turbo. The car is wonderfully soft and thoughtfully controlled, and it is rare for a sudden splash in the road to be visible to the driving instructor. The steering is lighter than in Porsches' sporting cars but is still super accurate and comfortable to touch. We expect the new GTS to achieve similar performance in the new series – the Porsche Macan S and the Macan GTS. Hopefully, the new model will be fitted with a 375-hp new 2.9 liter V-4 – an engine found in the S. 
Versatility For Any Adventure
The Porsche Macan cargo space is designed to cater to a wide range of adventures. Whether you're embarking on a spontaneous weekend getaway or tackling your everyday errands, this luxury SUV has got you covered. Its adaptable interior allows you to effortlessly transform the space to accommodate various needs, ensuring that you can pack everything you need for your journey, big or small. Want to buy Used 2023 White Porsche Macan, Visit Porsche Miami Dealership
No matter what you have in mind, the Porsche Macan's cargo space is up to the challenge. With its flexible layout and ample capacity, it easily accommodates sports equipment like golf clubs, bicycles, or skiing gear for your active pursuits. Planning a family vacation? Rest assured that there is plenty of room for luggage, ensuring a comfortable and stress-free travel experience. Even when faced with the task of grocery shopping or hauling larger items, the Porsche Macan cargo space rises to the occasion, providing the necessary space and convenience.
With the Porsche Macan, versatility knows no bounds. Its adaptable Porsche macan cargo space effortlessly transitions to meet your unique needs, offering a seamless blend of practicality and luxury. No matter the adventure, this exceptional SUV ensures that you can embark on your journey with confidence and style, knowing that everything you need is right at your fingertips.
Customer And Expert Reviews Of Porsche Macan Cargo Space
"The cargo space in the Porsche Macan is a game-changer! I frequently travel for business, and the Macan easily accommodates my luggage and equipment. It's incredibly versatile, allowing me to transition seamlessly between work and play. The convenience it offers is unmatched."
-John S
"As a sports enthusiast, I needed a vehicle that could handle my equipment. The Porsche Macan exceeded my expectations. The Porsche Macan cargo space is incredibly spacious and well-designed, making it a breeze to load and unload my bikes and gear. It's the perfect companion for my adventurous lifestyle."
-Sarah T
"I love the convenience the Porsche Macan cargo space offers for my everyday errands. From grocery shopping to running errands, it effortlessly accommodates everything I need. The power liftgate and adjustable compartments make organizing a breeze. It's become an essential part of my daily routine."-
Lisa M
Car Enthusiast Blog
"The Porsche Macan cargo space showcases the brand's commitment to blending luxury and functionality. It's not just spacious; it's intelligently designed. The thoughtful touches, like tie-down hooks and hidden compartments, make it a true standout in its segment. The Macan proves that practicality can be stylish."
Auto Review Magazine
The Porsche Macan cargo space sets a new standard in its class. With its flexible layout and generous capacity, it effortlessly adapts to various needs. Whether it's a grocery run or a family road trip, the Macan's practicality and convenience make it a standout choice among luxury SUVs."
Frequently Asked Questions 
Is the Porsche Macan spacious?
The Macan is a deceptively spacious vehicle. Having passenger space inside this Macan five-door SUV is excellent and has a fairly big boot. The back seat can accommodate three adults easily, giving them a comfortable amount of knee room. 
Do Porsche Macan's back seats fold down? 
The five-seater Macan has up to 52.9 cubic feet of cargo space with the rear seats folded down; When passengers use the vehicle's standard seats, there will still be plenty of room for small cargo items. However, if needs change and moving passengers would not be an issue. You can easily fold-down rear seats to accommodate larger items. 
Is Macan Worth The Money? 
The performance and handling make the Porsche Macan worth its price for some drivers. Those looking for fabulous interior styling of Macan or lots of standard features might be happier with a different SUV, especially since the Macan's price is much higher than some competitors'. 
Is The Porsche Macan Comfortable? 
The Macan is distinctly sports-oriented and feels firmer on its standard springs than the best-riding SUVs, such as the Audi Q5. In both instances, the setup is lower and stiffer, so ride comfort takes a small hit. 
What Are Porsche Macan's Safety Features? 
Porsche's standard Driver Assistance Package includes adaptive cruise control, an emergency braking system with pedestrian recognition and a driver-attention monitor(Users can upgrade to the Premium Plus package for lane-keeping assist, blind-spot monitoring, rear traffic alert and more.) 
How Are Macan's Performance And Fuel Economy? 
The luxury SUV Macan has a turbocharged 210-hp four-cylinder engine, so while it's nowhere near as quick as the 340-hp twin-turbo V-six in the MacanTurbo S or 550 horsepower Panamera Turbo, acceleration is adequate. Although it's not as efficient in the city, the Macan is more satisfying on a long highway run. 
Conclusion
In conclusion, you can get endless possibilities with the versatile Porsche Macan cargo space. Its spacious design and smart layout redefine luxury and functionality. Whether it's weekend adventures or daily tasks, the Macan effortlessly fits your needs with style. Embrace the convenience and flexibility it offers, and embark on memorable journeys knowing that everything you need is just within reach. Experience the Porsche Macan today and elevate your driving experience to a whole new level of luxury and practicality.So, don't sit and wait any longer in confusion whether to invest your long saved hand earned money on your dream car just head out to your nearest Porsche Dealership and take a test drive today!